Sugarloaf Class
Hi Sugarloaf,
I am missing you all very much. I hope you have all had a wonderful half term break and stayed safe and healthy. I would love to hear about your week.
I have been reading a lot still to keep myself occupied. I have also started to learn how to knit. It is very tricky and will definitely take me a lot of practicing to get the hang of it. Have you learned something new during this time away?
This home page will be updated with activities that can be done throughout the week such as times table focus and spellings. I will also be putting work up for each day on the tabs labelled Monday- Friday! I would love to see all of your amazing work, feel free to send me a picture or even type your work up!
All work can be sent to: y5@sfdprimary.co.uk
Make sure you are continuing to read for at least 20 minutes everyday! I have been checking Epic! and lots of you are going above and beyond this. I'm so proud of you. If you still need a link to allow you to access Epic! at home please let me know.
If any of you have read a book on Epic! that you really enjoyed, please send me a quick blurb or review and why you enjoyed it so I can share it with your classmates!
This week's book feature is called:
This book is a non-fiction text that is made up of different poems and text styles. It is an inspiring story and is a great break from reading traditional texts.
___________________________________________________________________________
Wow Work of the Week
Thank you to those who have been sending me photos or typed versions of their work. I am so proud of how well each of you have been doing!
Jeremy Solved the weekly maths challenge!
Rafiat Climate Change Song
Albina Hover craft Science Activity
___________________________________________________________________________
Spelling Focus
This weeks focus will be words with -ible and -able
Remember to use strategies used in class to learn these words, such as, cover, spell, check/ rainbow writing/ repetition or get a family member to test you!
Focus: ible, able words
applicable
dependable
comfortable
enjoyable
horrible
incredible
possible
sensible
terrible
tolerable
understandable
visible
Challenge words:
considerable
changeable
forcible
Organise words into groups based on their endings (-ible and -able)
___________________________________________________________________________
Times Table Focus
This week we are going to focus on our 12 times tables.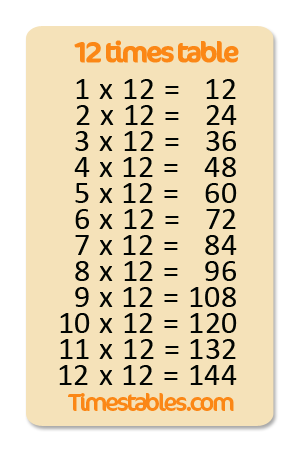 Patterns in multiplying 12's: What patterns can you recognise?
Challenge: Once you feel confident test your skills on Hit The Button! Click the link and then choose 12 x tables. Once you've mastered responding with the answer, play "hit the question" to challenge yourself.
__________________________________________________
Extra Task:
Here is a great activity you can do with a sibling, parent or even on your own!
These decorations recycle old tin cans!
HOW TO MAKE RECYCLED CAN WINDSOCKS
SUPPLIES NEEDED:
Step 1:
Start by painting the can in colours of your choice.
Step 2:
After the paint is dry, use glue to attach colourful ribbons to the bottom rim of the can. You also added a ribbon to the top of the can for hanging.
Add any extra decorations to the can that you may like (sparkles, stickers, words)
Step 3:
Hang your creation!
I have also left the link for Dance Mat Typing below, incase you would still like to practice!
Thank you to those who have been keeping up with tasks and have been sending me work. I love seeing all the awesome writing/ maths and creations you are all doing. Keep up the awesome work year 5's!
Miss Pritoula